Birding and Nature in Colon, Panama:
Achiote Road: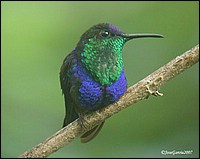 one of the world's best birding spots and so easy to get to! An 45 mins easy drive by highway from Colon. This is what a recent article in the New York Times had to say about Achiote Road:
"This unlikely setting (Achiote Road) is the prime birding site in Panama, where more than 340 species are counted during the annual 24-hour Atlantic Christmas Bird Count. Ken got out of the bus saying he wanted to see the spot-crowned barbet, which would be a first for him, and within minutes one obediently flew into a tree across the road. There were mealy parrots, orange chinned parakeets, a flock of more than 100 swallowtail kites, two white hawks fighting overhead, a whole family of howler monkeys - a constantly changing show."
- Nobody Here But the Birds - New York Times , April 2002.
Birding at the Sierra Llorona Lodge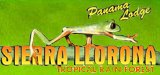 near the surfing zone on the Atlantic NE. A private reserve of 200 hectares near Colón, in tropical rain forest. A great place for birders, but also to anyone interested in tropical nature, adventure or just relaxation. Experience a day or two walking in this dense jungle, being able to see unique wild species of the tropics such as monkeys, birds and sometimes even small wild pigs.
Adventure:
Canopy Tour: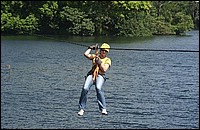 Originally developed by scientists to study the biodiversity found in the canopy of trees, the method involved rigging large trees with climbing gear, cables, ladders, etc. By means of this gear, biologists were able to swing from one tree to another, over chasms and water, to study larger areas of the forest. They also discovered it was a LOT of fun!
Nowadays, several canopy tours have been developed around the world, Colon has the distinction of having 3 Canopy tours. Canopy Rio Piedras
is about half an hours drive from Colón. This adventure allows anybody to rise to the top of the tree and switch on the adrenaline, as you swish through the air from one gigantic tree to another. Unlike Tarzan...in complete safety.
Canopy Rio Piedras is definitely one of the best Canopy Tour in the whole country. The series of platforms are sometimes located over 100 feet high and up to 450 feet apart, enough to wake you up! Consisting of nine segments, one of them takes you to the top of a 100 foot tall tree called "Arbol de 7 muertos", no dont worry no one has died on that tour. Its appropriately called Adrena-line Factory, so beware, its not for the faint-hearted. Because once you are on that "Arbol de 7 muertos" tree, there is no going back, you have to go forward. Takes about 45 minutes and costs $40.00 per person. They also offer hiking trails, and tubing in the river. Open 7 days a week. Just after Maria Chiquita, on the way to Portobelo.
The second Canopy Tour in Colon is at La Granja Campo y Aventura
Located just 10 minutes from Colon, at San Judas Tadeo. Parts of the Canopy Tour at La Granja take you over the waters of the Gatun Lake. La Granja also offers Agrotourism, Ecotourism, and Adventure tourism including Kayaking, Horse riding, Mountain Biking, Interactive Adventure park, Hiking, Camping, among other activities.
The Hotel Melia in Colon, also has a Canopy Tour.
NaoEre Walks:<4r>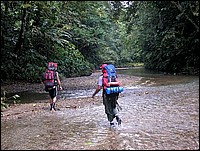 Those who enjoy nature will tell you that a walk through a tropical forest is a unique experience. Major providers of the air we breathe, the source of most elements used to create modern day medicine and a legacy to our children, the Tropical Rainforest must be explored and understood by all in an effort to give our planet a better chance. Canopy Rio Piedras also offers Nature Walks
River Tubing:Canopy Rio Piedras also offers River Tubing in the Rio Piedras.
Kayaking: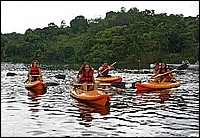 The area is a perfect place for sea kayaking. You can combine history and outdoor adventure with a kayak trip from Gatun Locks in the Panama Canal, into the lower Chagres River to historic Fort San Lorenzo. You can also go Kayaking near Scuba Panama on the way to Portobelo, follow the signs just after Maria Chiquita.
Surfing: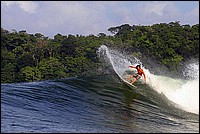 Along this coast you will be able to experience the most challenging swells. This is due to the fact that most of the swells this region receives are from the NE of the Atlantic Ocean. The most consistent swells for this region are from December through March and inconsistent clean swells from June to July. Surf population in this region is 0% and tides only fluctuate from 1ft to 4ft meaning you can surf these spots as long as you want and without crowds! Read more:
Scuba Diving/Snorkeling: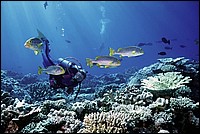 The Portobelo area offers several good diving spots including sunken ships and reefs. The coral reefs near the Isla Grande Hotel are a good place to start. Scuba Panama just outside Portobelo has full diving tour services. The varied coastline found here provides offshore reefs, and scores of lagoons.
Twin Oceans Dive Center
Phone: (507)448-2067

Panama Divers
Scuba Panama
---
---