Ethnotourism in Colon, Panama:
Visit Embera Quera Village
: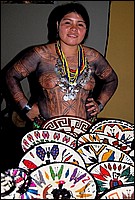 After a drive of only 25 minutes from Colón, or 45 minutes from Panama City, you will take a gorgeous and tranquil 20 minute canoe ride to the Embera Quera Village for possibly the highlight of your time in Panama!
Their distinct culture has remained virtually unchanged throughout the years. While you're here, watch the native people create traditional hand-woven baskets and miniature carvings from the tagua nut (the fruit of the vegetable ivory palm). This side trip will give you the once in a lifetime opportunity to see an ancient culture and help keep it alive by buying their handicrafts, unique to the Emberá Indians.
Ecotourism:
Panama is geographically privileged for having the Pacific and Atlantic Oceans on both sides of the country and an incomparable flora and fauna, allowing scientific investigation in Panama to become a popular destination for Ecotoursim.
The province of Colon is host to four national parks.
Barro Colorado Nature Preserve: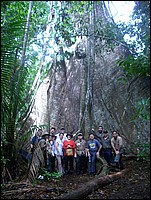 is located at the Gatun Lake in the middle of the Panama Canal with an area of 5,364 hectares. It is made up of the Bohio, Buena Vista, Peña Blanca and Gigante Peninsulas, besides the Barro Colorado Island. In 1923 it was declared Biological Reserve, the first Tropical Rainforest Reservation in the hemisphere. In 1979, areas on the mainland were added and is declared World Natural Heritage. It is maintained by the Smithsonian Tropical Research Institute, and represents some of Panama's natural beauty. Guided tours will take you around here. This is where you will find the longest patch of tropical rainforest in the Western Hemisphere.
The Soberania National Park: is located close to the Panama Canal , with a surface of 22,104 hectares of tropical rainforest. It is home to more than 1300 plants and 100 animals.
The Chagres National Park: preserves the Hydrographic Supply to the Panama Canal. The Chagres River and the Alajuela Lake are the two main attractions besides its fauna.
Portobelo National Park: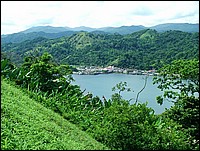 It was created in 1976 and has an extension of 34,846 hectares. Within its territory Christopher Columbus found one of the most beautiful and important ports in the Caribbean , Portobelo Bay , in 1502 during his fourth and last voyage to the New World. The fortifications surrounding have been well preserved and declared World Heritage in 1980 by UNESCO. The 70 kilometers between San Cristobal Bay to the north and Buenaventura Bay to the south have developed important coral reef, mangrove forest, coastal lagoons, and beautiful beaches where four species of marine turtle nest annually. In its coasts, especially in the mangroves, their is abundance of raccoons, while in the rives there are plenty water cats and white face monkeys within the forest of this protected area... Read more:
Galeta Island:

This island is located at the Atlantic entrance of the province of Colon just 10 minutes from Colon, and serves as scientific research center that promises to become the new tourism destination for marine ecosystem lovers. It's a natural reserve, under the title of Protected Landscape, allowing the continuous scientific studies of the area and protecting the existing mangroves habitat. Due to the occupation of the U.S. Army over seven decades, the natural status of the island maintains very untouched. Since 1967, the STRI offers scientific and tourism programs. At arrival to the Galeta Island , visitants are welcome by various lagoons, some natural and others created in 1930 for North American torpedoes testing to protect the Panama Canal . To visit this island, authorization by the STRI must be obtained.
Biodiversity: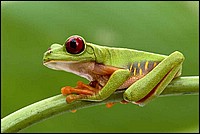 Panama is not the most diverse place on earth. Plant, Animal and marine. Panama's biodiversity is unique because of its complex distribution and intensity at every scale. In Panama, the intersections of geology, climate, evolution, and human action have created the wealthiest nation in the world in terms of biodiversity, with influence far beyond its borders. The Isthmus of Panama is part of the main center of plant diversity in the planet. Panama's density of plant life is higher than China's, Brazil's, or Colombia's.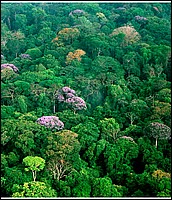 Colón has some of the most accessible rainforests on earth. You will find a wide range of tropical landscapes that are turning Colón into a major destination for eco-adventure with a variety of attractions available to rediscover the breath-taking harmony of nature: innocent, pure, inviting.
Panama is a natural land bridge that connects North and Central America with South America. Consequently, Panama's tropical jungles and forests are teeming with animal and plant species from both continents.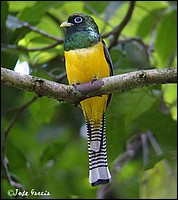 Panama is a bird watcher's paradise. The country's birds represent approximately 10% of the world's varieties—954 species out of a total of 9,672. The Isthmus is the biologic bridge for 120 species of migratory birds. This is more than can be found in North America and Europe combined, and it includes some of the rarest on Earth. Panama is also home to 225 mammal species, 214 reptile species and 143 amphibious species, as well as host to more than 10,000 plant species, including 1,200 orchid varieties, 678 fern species and 1,500 varieties of trees.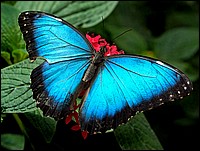 In the forests around Colón, some two hundred species of butterflies are present in this zone, where the less dense undergrowth makes spotting easier than in the deeper forest.
Panama is taking strong measures to protect and promote one of its best kept secrets: a national park and wildlife refuge system that is equal to or more extensive than any other in Central America. Currently 29 percent of Panama's total area is protected. There are 15 parks, reserves and refuges, a dozen forest reserves and 10 wild life sanctuaries, which are all places you can tour and discover a rich variety of flora and fauna within hours of Colón and Panama City.
Panama also had hundreds of islands and kilometers of protected coral reef, which shelter a wide diversity of marine life.
---
Best Times to Go: January to April is best for hiking and lowland areas are cooler. The weather is dryer and a nice cool breeze blows all the time.
Getting There: This is one of the most accessible regions in Panama and all areas described are reached from the Panama-Colón road.
Clothing/Gear: No special clothing/gear is needed unless you plan to go rafting, scuba diving or to hike overnight in the rainforest. Bring insect repellent and sun tan lotion. For overnight hiking in heavily forested areas, you will need a hammock, mosquito netting, raingear and an extra change of clothing.
Remember to carry drinking water whenever you go hiking.
Click here for a list of Tour Operators:
---
---